Open Special Explorer Folder
This command provides a quick way to get to some of the most frequented folders or dialog boxes. Other Explorer folders not listed below can be directly accessed with a macro using the Open Folder or Open Folder in Explorer command.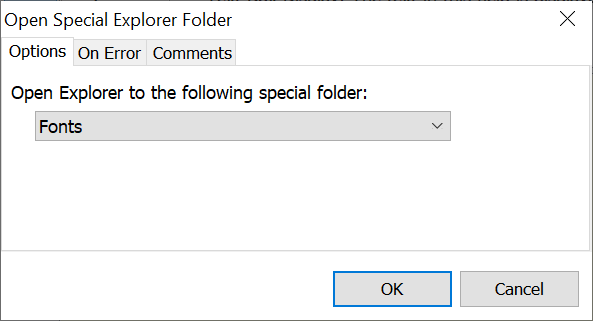 Script Editor > Expand Explorer Category > Open Special Explorer Folder
Use this option to quickly open any of the fourteen Explorer folders listed below. Select the folder and click OK to save.
Available Folders
Control Panel
Desktop Folder
Desktop Programs
Favorites
Fonts
My Computer
Network Neighborhood
Printers
Programs Folder
Recent Documents
Recycle Bin
Start Menu
Startup Folder
User Documents
See Also