Hot Keys
A hot key is a combination of keys that, when pressed together, plays back a macro. Macro Express allows hot key combinations ranging from a single key up to four keys pressed simultaneously.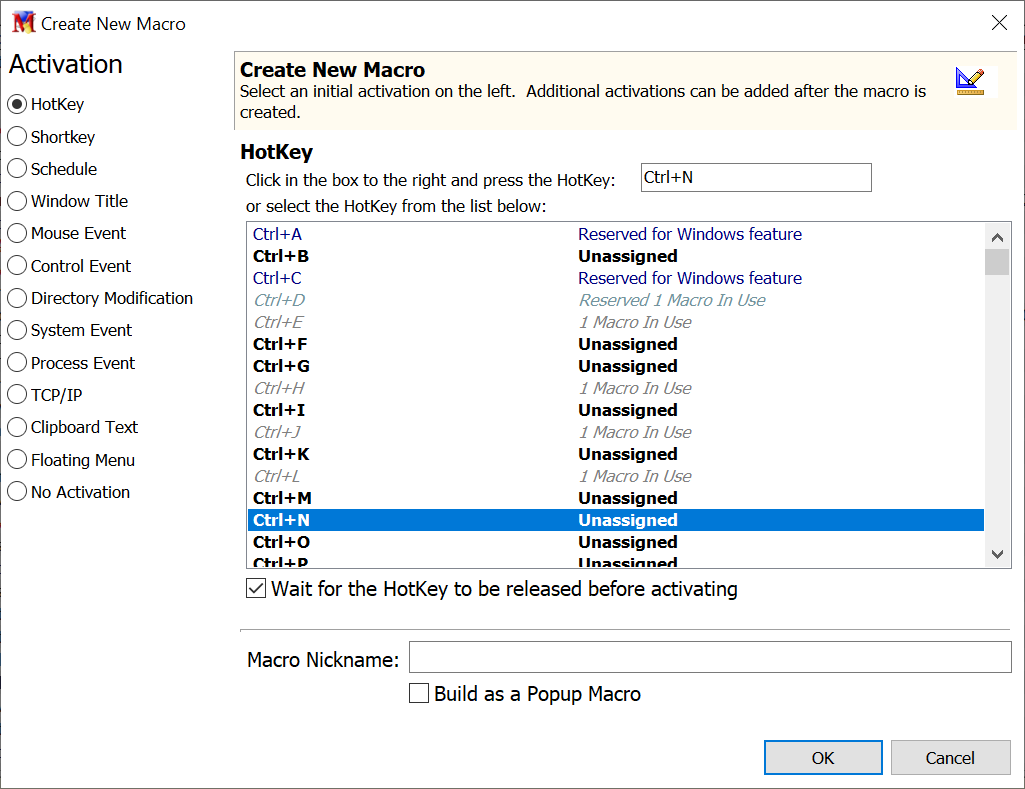 Macro Express Explorer > Macro > Add Macro - Or click on New Macro Icon
To activate a new macro with a hot key, select the HotKey option in the Create New Macro window. Place the cursor in the edit box and hold down the hot key combination wanted. That combination is inserted in the edit box and will be the combination used to activate the macro.
If unsure which combination to use, scroll through the list of keys and highlight the one wanted.

Available Hot Keys
Hot keys designated as Reserved for Windows are used by Windows for specific functions, but may be overridden by Macro Express. For example, Ctrl + C is used to copy highlighted text to the clipboard, but the key may be assigned to Macro Express to perform a different function.
Hot Keys shown as Restricted to Windows are reserved by Windows for its own internal use. Depending on the version of Windows being used, these hot keys may not activate Macro Express macros. They will only perform the function assigned by Windows.
Wait for the Hot Key to be Released before Activating
This default setting requires that all keys in the hot key sequence be released in order for the macro to start playing. De-selecting this option allows the macro to start playing as soon as the hot key sequence is pressed.
---
Macro Nickname
Optionally assign a name to the macro to later help more readily determine what the macro does.
Build as a Popup Menu
Select this option to open the Menu Builder window and create a popup menu.
---
Hot Key Combinations
Macro Express Pro supports 846 different hot key combinations. Below is a comprehensive list of available hot keys:
| | | | |
| --- | --- | --- | --- |
| Ctrl+A | Alt+Shift+U | Ctrl+` | Win+Ctrl+8 |
| Ctrl+B | Alt+Shift+V | Alt+` | Win+Ctrl+9 |
| Ctrl+C | Alt+Shift+W | Ctrl+Shift+` | Win+Ctrl+F1 |
| Ctrl+D | Alt+Shift+X | Alt+Shift+` | Win+Ctrl+F2 |
| Ctrl+E | Alt+Shift+Y | Ctrl+Alt+` | Win+Ctrl+F3 |
| Ctrl+F | Alt+Shift+Z | Ctrl+Alt+Shift+` | Win+Ctrl+F4 |
| Ctrl+G | Alt+Shift+0 | KeyPad / | Win+Ctrl+F5 |
| Ctrl+H | Alt+Shift+1 | Ctrl+Keypad / | Win+Ctrl+F6 |
| Ctrl+I | Alt+Shift+2 | Alt+Keypad / | Win+Ctrl+F7 |
| Ctrl+J | Alt+Shift+3 | Shift+KeyPad / | Win+Ctrl+F8 |
| Ctrl+K | Alt+Shift+4 | Ctrl+Shift+Keypad / | Win+Ctrl+F9 |
| Ctrl+L | Alt+Shift+5 | Alt+Shift+Keypad / | Win+Ctrl+F10 |
| Ctrl+M | Alt+Shift+6 | Ctrl+Alt+Keypad / | Win+Ctrl+F11 |
| Ctrl+N | Alt+Shift+7 | Ctrl+Alt+Shift+Keypad / | Win+Ctrl+F12 |
| Ctrl+O | Alt+Shift+8 | KeyPad * | Win+Alt+A |
| Ctrl+P | Alt+Shift+9 | Ctrl+Keypad * | Win+Alt+B |
| Ctrl+Q | Alt+Shift+F1 | Alt+Keypad * | Win+Alt+C |
| Ctrl+R | Alt+Shift+F2 | Shift+KeyPad * | Win+Alt+D |
| Ctrl+S | Alt+Shift+F3 | Ctrl+Shift+Keypad * | Win+Alt+E |
| Ctrl+T | Alt+Shift+F4 | Alt+Shift+Keypad * | Win+Alt+F |
| Ctrl+U | Alt+Shift+F5 | Ctrl+Alt+Keypad * | Win+Alt+G |
| Ctrl+V | Alt+Shift+F6 | Ctrl+Alt+Shift+Keypad * | Win+Alt+H |
| Ctrl+W | Alt+Shift+F7 | KeyPad - | Win+Alt+I |
| Ctrl+X | Alt+Shift+F8 | Ctrl+Keypad - | Win+Alt+J |
| Ctrl+Y | Alt+Shift+F9 | Alt+Keypad - | Win+Alt+K |
| Ctrl+Z | Alt+Shift+F10 | Shift+KeyPad - | Win+Alt+L |
| Ctrl+0 | Alt+Shift+F11 | Ctrl+Shift+Keypad - | Win+Alt+M |
| Ctrl+1 | Alt+Shift+F12 | Alt+Shift+Keypad - | Win+Alt+N |
| Ctrl+2 | Ctrl+Alt+Shift+A | Ctrl+Alt+Keypad - | Win+Alt+O |
| Ctrl+3 | Ctrl+Alt+Shift+B | Ctrl+Alt+Shift+Keypad - | Win+Alt+P |
| Ctrl+4 | Ctrl+Alt+Shift+C | KeyPad + | Win+Alt+Q |
| Ctrl+5 | Ctrl+Alt+Shift+D | Ctrl+Keypad + | Win+Alt+R |
| Ctrl+6 | Ctrl+Alt+Shift+E | Alt+Keypad + | Win+Alt+S |
| Ctrl+7 | Ctrl+Alt+Shift+F | Shift+KeyPad + | Win+Alt+T |
| Ctrl+8 | Ctrl+Alt+Shift+G | Ctrl+Shift+Keypad + | Win+Alt+U |
| Ctrl+9 | Ctrl+Alt+Shift+H | Alt+Shift+Keypad + | Win+Alt+V |
| Ctrl+F1 | Ctrl+Alt+Shift+I | Ctrl+Alt+Keypad + | Win+Alt+W |
| Ctrl+F2 | Ctrl+Alt+Shift+J | Ctrl+Alt+Shift+Keypad + | Win+Alt+X |
| Ctrl+F3 | Ctrl+Alt+Shift+K | Insert | Win+Alt+Y |
| Ctrl+F4 | Ctrl+Alt+Shift+L | Delete | Win+Alt+Z |
| Ctrl+F5 | Ctrl+Alt+Shift+M | Home | Win+Alt+0 |
| Ctrl+F6 | Ctrl+Alt+Shift+N | End" | Win+Alt+1 |
| Ctrl+F7 | Ctrl+Alt+Shift+O | Page Up | Win+Alt+2 |
| Ctrl+F8 | Ctrl+Alt+Shift+P | Page Down | Win+Alt+3 |
| Ctrl+F9 | Ctrl+Alt+Shift+Q | Left Arrow | Win+Alt+4 |
| Ctrl+F10 | Ctrl+Alt+Shift+R | Right Arrow | Win+Alt+5 |
| Ctrl+F11 | Ctrl+Alt+Shift+S | Up Arrow | Win+Alt+6 |
| Ctrl+F12 | Ctrl+Alt+Shift+T | Down Arrow | Win+Alt+7 |
| Alt+A | Ctrl+Alt+Shift+U | Ctrl+Page Up | Win+Alt+8 |
| Alt+B | Ctrl+Alt+Shift+V | Alt+Page Up | Win+Alt+9 |
| Alt+C | Ctrl+Alt+Shift+W | Shift+Page Up | Win+Alt+F1 |
| Alt+D | Ctrl+Alt+Shift+X | Ctrl+Shift+Page Up | Win+Alt+F2 |
| Alt+E | Ctrl+Alt+Shift+Y | Alt+Shift+Page Up | Win+Alt+F3 |
| Alt+F | Ctrl+Alt+Shift+Z | Ctrl+Alt+Page Up | Win+Alt+F4 |
| Alt+G | Ctrl+Alt+Shift+0 | Ctrl+Alt+Shift+Page Up | Win+Alt+F5 |
| Alt+H | Ctrl+Alt+Shift+1 | Ctrl+Page Down | Win+Alt+F6 |
| Alt+I | Ctrl+Alt+Shift+2 | Alt+Page Down | Win+Alt+F7 |
| Alt+J | Ctrl+Alt+Shift+3 | Shift+Page Down | Win+Alt+F8 |
| Alt+K | Ctrl+Alt+Shift+4 | Ctrl+Shift+Page Down | Win+Alt+F9 |
| Alt+L | Ctrl+Alt+Shift+5 | Alt+Shift+Page Down | Win+Alt+F10 |
| Alt+M | Ctrl+Alt+Shift+6 | Ctrl+Alt+Page Down | Win+Alt+F11 |
| Alt+N | Ctrl+Alt+Shift+7 | Ctrl+Alt+Shift+Page Down | Win+Alt+F12 |
| Alt+O | Ctrl+Alt+Shift+8 | Ctrl+Left Arrow | ESC |
| Alt+P | Ctrl+Alt+Shift+9 | Alt+Left Arrow | LMouse |
| Alt+Q | Ctrl+Alt+Shift+F1 | Shift+Left Arrow | Shift+LMouse |
| Alt+R | Ctrl+Alt+Shift+F2 | Ctrl+Shift+Left Arrow | Ctrl+LMouse |
| Alt+S | Ctrl+Alt+Shift+F3 | Alt+Shift+Left Arrow | Alt+LMouse |
| Alt+T | Ctrl+Alt+Shift+F4 | Ctrl+Alt+Left Arrow | Ctrl+Shift+LMouse |
| Alt+U | Ctrl+Alt+Shift+F5 | Ctrl+Alt+Shift+Left Arrow | Ctrl+Alt+LMouse |
| Alt+V | Ctrl+Alt+Shift+F6 | Ctrl+Right Arrow | Shift+Alt+LMouse |
| Alt+W | Ctrl+Alt+Shift+F7 | Alt+Right Arrow | RMouse |
| Alt+X | Ctrl+Alt+Shift+F8 | Shift+Right Arrow | Shift+RMouse |
| Alt+Y | Ctrl+Alt+Shift+F9 | Ctrl+Shift+Right Arrow | Ctrl+RMouse |
| Alt+Z | Ctrl+Alt+Shift+F10 | Alt+Shift+Right Arrow | Alt+RMouse |
| Alt+0 | Ctrl+Alt+Shift+F11 | Ctrl+Alt+Right Arrow | Ctrl+Shift+RMouse |
| Alt+1 | Ctrl+Alt+Shift+F12 | Ctrl+Alt+Shift+Right Arrow | Ctrl+Alt+RMouse |
| Alt+2 | F1 | Ctrl+Up Arrow | Shift+Alt+RMouse |
| Alt+3 | F2 | Alt+Up Arrow | MMouse |
| Alt+4 | F3 | Shift+Up Arrow | Shift+MMouse |
| Alt+5 | F4 | Ctrl+Shift+Up Arrow | Ctrl+MMouse |
| Alt+6 | F5 | Alt+Shift+Up Arrow | Alt+MMouse |
| Alt+7 | F6 | Ctrl+Alt+Up Arrow | Ctrl+Shift+MMouse |
| Alt+8 | F7 | Ctrl+Alt+Shift+Up Arrow | Ctrl+Alt+MMouse |
| Alt+9 | F8 | Ctrl+Down Arrow | Shift+Alt+MMouse |
| Alt+F1 | F9 | Alt+Down Arrow | Win+Space |
| Alt+F2 | F10 | Shift+Down Arrow | Space |
| Alt+F3 | F11 | Ctrl+Shift+Down Arrow | Enter |
| Alt+F4 | F12 | Alt+Shift+Down Arrow | KeyPad . |
| Alt+F5 | Shift+F1 | Ctrl+Alt+Down Arrow | Alt+KeyPad . |
| Alt+F6 | Shift+F2 | Ctrl+Alt+Shift+Down Arrow | Ctrl+KeyPad . |
| Alt+F7 | Shift+F3 | KeyPad 0 | Win+KeyPad . |
| Alt+F8 | Shift+F4 | Ctrl+Keypad 0 | Win+KeyPad 0 |
| Alt+F9 | Shift+F5 | Alt+Keypad 0 | Win+KeyPad 1 |
| Alt+F10 | Shift+F6 | Ctrl+Alt+Keypad 0 | Win+KeyPad 2 |
| Alt+F11 | Shift+F7 | KeyPad 1 | Win+KeyPad 3 |
| Alt+F12 | Shift+F8 | Ctrl+Keypad 1 | Win+KeyPad 4 |
| Ctrl+Shift+A | Shift+F9 | Alt+Keypad 1 | Win+KeyPad 5 |
| Ctrl+Shift+B | Shift+F10 | Ctrl+Alt+Keypad 1 | Win+KeyPad 6 |
| Ctrl+Shift+C | Shift+F11 | KeyPad 2 | Win+KeyPad 7 |
| Ctrl+Shift+D | Shift+F12 | Ctrl+Keypad 2 | Win+KeyPad 8 |
| Ctrl+Shift+E | Ctrl+Enter | Alt+Keypad 2 | Win+KeyPad 9 |
| Ctrl+Shift+F | Alt+Enter | Ctrl+Alt+Keypad 2 | Win+KeyPad / |
| Ctrl+Shift+G | Shift+Enter | KeyPad 3 | Win+KeyPad * |
| Ctrl+Shift+H | Ctrl+Shift+Enter | Ctrl+Keypad 3 | Win+KeyPad - |
| Ctrl+Shift+I | Alt+Shift+Enter | Alt+Keypad 3 | Win+KeyPad + |
| Ctrl+Shift+J | Ctrl+Alt+Enter | Ctrl+Alt+Keypad 3 | Win+Ctrl+KeyPad . |
| Ctrl+Shift+K | Ctrl+Alt+Shift+Enter | KeyPad 4 | Win+Ctrl+KeyPad 0 |
| Ctrl+Shift+L | Ctrl+Tab | Ctrl+Keypad 4 | Win+Ctrl+KeyPad 1 |
| Ctrl+Shift+M | Shift+Tab | Alt+Keypad 4 | Win+Ctrl+KeyPad 2 |
| Ctrl+Shift+N | Ctrl+Shift+Tab | Ctrl+Alt+Keypad 4 | Win+Ctrl+KeyPad 3 |
| Ctrl+Shift+O | Ctrl+Alt+Tab | KeyPad 5 | Win+Ctrl+KeyPad 4 |
| Ctrl+Shift+P | Ctrl+Alt+Shift+Tab | Ctrl+Keypad 5 | Win+Ctrl+KeyPad 5 |
| Ctrl+Shift+Q | Ctrl+Backspace | Alt+Keypad 5 | Win+Ctrl+KeyPad 6 |
| Ctrl+Shift+R | Alt+Backspace | Ctrl+Alt+Keypad 5 | Win+Ctrl+KeyPad 7 |
| Ctrl+Shift+S | Shift+Backspace | KeyPad 6 | Win+Ctrl+Keypad 8 |
| Ctrl+Shift+T | Ctrl+Shift+Backspace | Ctrl+Keypad 6 | Win+Ctrl+KeyPad 9 |
| Ctrl+Shift+U | Alt+Shift+Backspace | Alt+Keypad 6 | Win+Ctrl+KeyPad / |
| Ctrl+Shift+V | Ctrl+Alt+Backspace | Ctrl+Alt+Keypad 6 | Win+Ctrl+KeyPad * |
| Ctrl+Shift+W | Ctrl+Alt+Shift+Backspace | KeyPad 7 | Win+Ctrl+KeyPad - |
| Ctrl+Shift+X | Ctrl+Space | Ctrl+Keypad 7 | Win+Ctrl+KeyPad + |
| Ctrl+Shift+Y | Alt+Space | Alt+Keypad 7 | Win+Alt+KeyPad . |
| Ctrl+Shift+Z | Shift+Space | Ctrl+Alt+Keypad 7 | Win+Alt+KeyPad 0 |
| Ctrl+Shift+0 | Ctrl+Shift+Space | KeyPad 8 | Win+Alt+KeyPad 1 |
| Ctrl+Shift+1 | Alt+Shift+Space | Ctrl+Keypad 8 | Win+Alt+KeyPad 2 |
| Ctrl+Shift+2 | Ctrl+Alt+Space | Alt+Keypad 8 | Win+Alt+KeyPad 3 |
| Ctrl+Shift+3 | Ctrl+Alt+Shift+Space | Ctrl+Alt+Keypad 8 | Win+Alt+KeyPad 4 |
| Ctrl+Shift+4 | Ctrl+Insert | KeyPad 9 | Win+Alt+KeyPad 5 |
| Ctrl+Shift+5 | Alt+Insert | Ctrl+Keypad 9 | Win+Alt+KeyPad 6 |
| Ctrl+Shift+6 | Shift+Insert | Alt+Keypad 9 | Win+Alt+KeyPad 7 |
| Ctrl+Shift+7 | Ctrl+Shift+Insert | Ctrl+Alt+Keypad 9 | Win+Alt+KeyPad 8 |
| Ctrl+Shift+8 | Alt+Shift+Insert | Win+A | Win+Alt+KeyPad 9 |
| Ctrl+Shift+9 | Ctrl+Alt+Insert | Win+B | Win+Alt+KeyPad / |
| Ctrl+Shift+F1 | Ctrl+Alt+Shift+Insert | Win+C | Win+Alt+KeyPad * |
| Ctrl+Shift+F2 | Ctrl+Delete | Win+D | Win+Alt+KeyPad - |
| Ctrl+Shift+F3 | Alt+Delete | Win+E | Win+Alt+KeyPad + |
| Ctrl+Shift+F4 | Shift+Delete | Win+F | 0 |
| Ctrl+Shift+F5 | Ctrl+Shift+Delete | Win+G | 1 |
| Ctrl+Shift+F6 | Alt+Shift+Delete | Win+H | 2 |
| Ctrl+Shift+F7 | Ctrl+Home | Win+I | 3 |
| Ctrl+Shift+F8 | Alt+Home | Win+J | 4 |
| Ctrl+Shift+F9 | Shift+Home | Win+K | 5 |
| Ctrl+Shift+F10 | Ctrl+Shift+Home | Win+L | 6 |
| Ctrl+Shift+F11 | Alt+Shift+Home | Win+M | 7 |
| Ctrl+Shift+F12 | Ctrl+Alt+Home | Win+N | 8 |
| Ctrl+Alt+A | Ctrl+Alt+Shift+Home | Win+O | 9 |
| Ctrl+Alt+B | Ctrl+End | Win+P | A |
| Ctrl+Alt+C | Alt+End | Win+Q | B |
| Ctrl+Alt+D | Shift+End | Win+R | C |
| Ctrl+Alt+E | Ctrl+Shift+End | Win+S | D |
| Ctrl+Alt+F | Alt+Shift+End | Win+T | E |
| Ctrl+Alt+G | Ctrl+Alt+End | Win+U | F |
| Ctrl+Alt+H | Ctrl+Alt+Shift+End | Win+V | G |
| Ctrl+Alt+I | Ctrl+. | Win+W | H |
| Ctrl+Alt+J | Alt+. | Win+X | I |
| Ctrl+Alt+K | Ctrl+Shift+. | Win+Y | J |
| Ctrl+Alt+L | Alt+Shift+. | Win+Z | K |
| Ctrl+Alt+M | Ctrl+Alt+. | Win+0 | L |
| Ctrl+Alt+N | Ctrl+Alt+Shift+. | Win+1 | M |
| Ctrl+Alt+O | Ctrl+, | Win+2 | N |
| Ctrl+Alt+P | Alt+, | Win+3 | O |
| Ctrl+Alt+Q | Ctrl+Shift+, | Win+4 | P |
| Ctrl+Alt+R | Alt+Shift+, | Win+5 | Q |
| Ctrl+Alt+S | Ctrl+Alt+, | Win+6 | R |
| Ctrl+Alt+T | Ctrl+Alt+Shift+, | Win+7 | S |
| Ctrl+Alt+U | Ctrl+/ | Win+8 | T |
| Ctrl+Alt+V | Alt+/ | Win+9 | U |
| Ctrl+Alt+W | Ctrl+Shift+/ | Win+F1 | V |
| Ctrl+Alt+X | Alt+Shift+/ | Win+F2 | W |
| Ctrl+Alt+Y | Ctrl+Alt+/ | Win+F3 | X |
| Ctrl+Alt+Z | Ctrl+Alt+Shift+/ | Win+F4 | Y |
| Ctrl+Alt+0 | Ctrl+; | Win+F5 | Z |
| Ctrl+Alt+1 | Alt+; | Win+F6 | Shift+0 |
| Ctrl+Alt+2 | Ctrl+Shift+; | Win+F7 | Shift+1 |
| Ctrl+Alt+3 | Alt+Shift+; | Win+F8 | Shift+2 |
| Ctrl+Alt+4 | Ctrl+Alt+; | Win+F9 | Shift+3 |
| Ctrl+Alt+5 | Ctrl+Alt+Shift+; | Win+F10 | Shift+4 |
| Ctrl+Alt+6 | Ctrl+'' | Win+F11 | Shift+5 |
| Ctrl+Alt+7 | Alt+'' | Win+F12 | Shift+6 |
| Ctrl+Alt+8 | Ctrl+Shift+'' | Win+Ctrl+A | Shift+7 |
| Ctrl+Alt+9 | Alt+Shift+'' | Win+Ctrl+B | Shift+8 |
| Ctrl+Alt+F1 | Ctrl+Alt+'' | Win+Ctrl+C | Shift+9 |
| Ctrl+Alt+F2 | Ctrl+Alt+Shift+'' | Win+Ctrl+D | Shift+A |
| Ctrl+Alt+F3 | Ctrl+\ | Win+Ctrl+E | Shift+B |
| Ctrl+Alt+F4 | Alt+\ | Win+Ctrl+F | Shift+C |
| Ctrl+Alt+F5 | Ctrl+Shift+\ | Win+Ctrl+G | Shift+D |
| Ctrl+Alt+F6 | Alt+Shift+\ | Win+Ctrl+H | Shift+E |
| Ctrl+Alt+F7 | Ctrl+Alt+\ | Win+Ctrl+I | Shift+F |
| Ctrl+Alt+F8 | Ctrl+Alt+Shift+\ | Win+Ctrl+J | Shift+G |
| Ctrl+Alt+F9 | Ctrl+[ | Win+Ctrl+K | Shift+H |
| Ctrl+Alt+F10 | Alt+[ | Win+Ctrl+L | Shift+I |
| Ctrl+Alt+F11 | Ctrl+Shift+[ | Win+Ctrl+M | Shift+J |
| Ctrl+Alt+F12 | Alt+Shift+[ | Win+Ctrl+N | Shift+K |
| Alt+Shift+A | Ctrl+Alt+[ | Win+Ctrl+O | Shift+L |
| Alt+Shift+B | Ctrl+Alt+Shift+[ | Win+Ctrl+P | Shift+M |
| Alt+Shift+C | Ctrl+] | Win+Ctrl+Q | Shift+N |
| Alt+Shift+D | Alt+] | Win+Ctrl+R | Shift+O |
| Alt+Shift+E | Ctrl+Shift+] | Win+Ctrl+S | Shift+P |
| Alt+Shift+F | Alt+Shift+] | Win+Ctrl+T | Shift+Q |
| Alt+Shift+G | Ctrl+Alt+] | Win+Ctrl+U | Shift+R |
| Alt+Shift+H | Ctrl+Alt+Shift+] | Win+Ctrl+V | Shift+S |
| Alt+Shift+I | Ctrl+- | Win+Ctrl+W | Shift+T |
| Alt+Shift+J | Alt+- | Win+Ctrl+X | Shift+U |
| Alt+Shift+K | Ctrl+Shift+- | Win+Ctrl+Y | Shift+V |
| Alt+Shift+L | Alt+Shift+- | Win+Ctrl+Z | Shift+W |
| Alt+Shift+M | Ctrl+Alt+- | Win+Ctrl+0 | Shift+X |
| Alt+Shift+N | Ctrl+Alt+Shift+- | Win+Ctrl+1 | Shift+Y |
| Alt+Shift+O | Ctrl+= | Win+Ctrl+2 | Shift+Z |
| Alt+Shift+P | Alt+= | Win+Ctrl+3 | Backspace |
| Alt+Shift+Q | Ctrl+Shift+= | Win+Ctrl+4 | ; |
| Alt+Shift+R | Alt+Shift+= | Win+Ctrl+5 | ' |
| Alt+Shift+S | Ctrl+Alt+= | Win+Ctrl+6 | |
| Alt+Shift+T | Ctrl+Alt+Shift+= | Win+Ctrl+7 | |