Variable Set from Miscellaneous
The Variable Set from Miscellaneous command is used to retrieve a variety of information about the computer, the macro file, or Macro Express.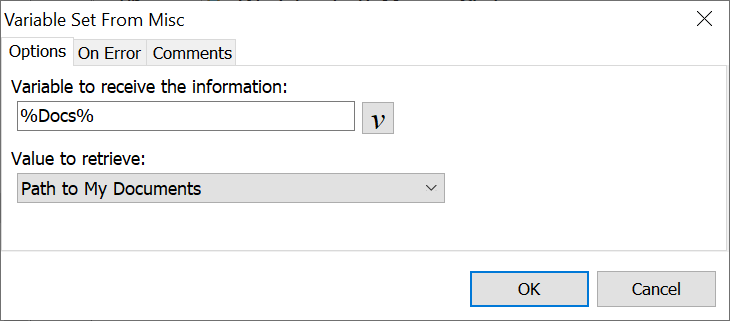 Script Editor > Expand Variables Category > Variable Set from Miscellaneous
Variable to receive the information
Select the text string variable to store the information retrieved. The variable can be used later in the macro.
Value to retrieve
Select the information needed from the drop down list. This information is stored in the variable chosen.
1.Obtain the path information to various folders on the computer such as My Documents shown in the example above.
2.Obtain various Macro Express information such as the macro file in use, the installation path, where the Macro Express preference settings are stored, etc.
3.Retrieve machine specific information such as owner name, machine name, etc.
List of Values Available
•Path to My Documents
•Path to Start Menu
•Path to Desktop
•Path to Common Documents
•Path to Common Start Menu
•Path to Common Desktop
•Installation Path
•Preferences Registry Key
•Name of Current Macro
•Name of Machine
•User Name
•Registered Owner
•Registered Company